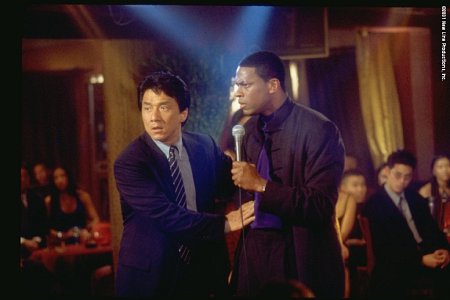 If I had a dollar for every time a joke about race reaches its punchline in "Rush Hour 2", well... I'd probably have enough money to finance "Rush Hour 3"! This is just what plagues this film: too many race jokes.

"Rush Hour 2" is proof of the age-old blockbuster sequel rule. They're made simply because the first made money, little or no thought is put into them, and it is put on the market ASAP to try to steal as much money as it can from the moviegoing public. Why else would those involved in writing "Rush Hour 2" be so desperate to assume that any exchange between Jackie Chan and Chris Tucker is funny?

The plot, the unimportant joke vehicle that it is, re-introduces us to Chief Inspector Lee (Jackie Chan) and Detective James Carter (Chris Tucker). Carter is on vacation in Hong Kong, but all he has done with Lee is stand by while Lee completes his cases. When a bomb explodes in a U.S. embassy, Lee is back on the job (much to Carter's annoyance). Li finds out that the mastermind behind the bombing is his father's killer, Ricky Tan (John Lone).

As I mentioned before, "Rush Hour 2" doesn't let up on the race jokes. Are these characters (Lee and Carter) so bored that they have nothing else to do but yak at each other about being black or being Asian? In one scene, Carter must come up with a distraction while Lee sneaks into the back of a casino being run by an accomplice of Ricky Tan's. What is his distraction? During a craps game, he whines about how he gets smaller chips than everyone else because he is black. He starts to dance on the craps table, bringing as much attention to himself as he can. Not only are these kinds of jokes getting old, but I also couldnt help but have sympathy for the chip dealer, who was a victim of bad taste.

A welcome addition to the cast is Zhang Ziyi from "Crouching Tiger, Hidden Dragon". She provides a reprieve from the tiresome jabber of Chris Tucker. She is terrific in all of her scenes. Jackie Chan is also excellent when in action, for he always does his own stunts. But no matter how fantastic these two are, there's no hiding that the action is stale. This kind of thing has been done before (see the original "Rush Hour").

"Rush Hour 2" is a non-funny, boring sequel that suffers from an intense lack of care and inginuity from all involved. Oh, and by the way, stick around for the credits. The outtakes are hilarious; much funnier than the movie itself.