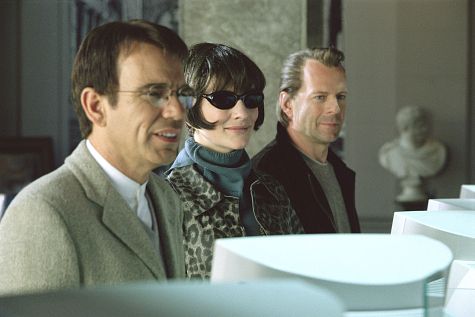 "Bandits" opens with the promise of a terrific, "Butch Cassidy"-esque odd-couple adventure, and ends with a poor excuse for a conclusion. Sure, it's clever, and so is much of the film. But it seems that director Barry Levinson is so focused on wit that he forgets to check for loopholes and lulls in the story.

"Bandits" concerns escaped convicts Joe and Terry (Bruce Willis and Billy Bob Thornton, respectively). They wish to open a new nightclub in Mexico which they will call "paradise". Their plans are extravagant, and they propose to pay for it by robbing banks. They find a creative way to do it: stay over at the bank manager's house the night before, take care of business in the morning. In comes Kate (Cate Blanchett), a woman depressed with her boring life and looking for adventure. Eventually, she becomes part of the team.

Above I mentioned loopholes. Yes, unfortunately they are abound in "Bandits". The story just keeps trotting along, leaving the viewer in the dark. For example, Terry supposedly has several medical conditions. we're led to believe it's a brain tumor, and then we're told it's not. So what is it? "Bandits" neglects to tell us this, just using Terry's anonymous medical problems as ways to get itself out of a tight spot. There is another subplot concerning a sort of angel woman in pink boots. Whatever her metaphoric symbolism is supposed to be defeats me, but she is used whenever it is dramatically convenient (note to Barry Levinson: this is called manipulation...)

Although it wasn't stellar, I was pleased with the acting in "Bandits". Bruce Willis is one of those "genre" actors that burst out of their normal type of roles (he went from action movies like "Die Hard" to dramas like "The Sixth Sense"). He does a good job in this film, mixing ex-con toughness with a touch of charm. His chemistry with Billy Bob Thornton is entertaining, yet there is an uncomfortable distance between the two that creeps up on them during some scenes. Cate Blanchett is also interesting as the over-the top Kate; caught in the middle of a love triangle (which, by the way, never works).

Is "Bandits" too clever for it's own good? No, I don't think so. But too much attention is given to cleverness. The script is solid, but it seems like that was the only thing that any work was done on. During any "action" scenes, the camerawork seemed like it was done on a five year old camcorder. It also seems that the actors weren't given any tips by the director; each actor gives his/her own raw interpretation of their role without much direction. "Bandits" doesn't seem like a finished product; instead it seems like a dress rehearsal for something much bigger.