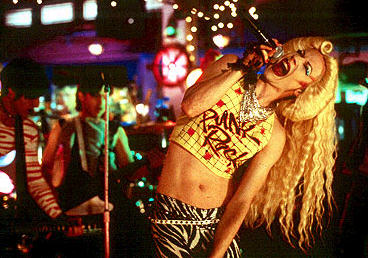 Think about what rock musicals have been like. It's no surprise that when most people think about the rock musical, they think about midnight showings with tons of obsessed fans screaming as the movie plays out before them, decked in attire identical to that of the characters up on screen. One thinks of cultish style, no substance. In other words, when thinking about the rock musical, one immediately thinks "Rocky Horror", and there's a reason for that. Finally, someone has decided to take the rock musical seriously and it works better than one could've imagined. Ladies and gentlemen, whether you like it or not... "HEDWIG!"

Based on the off-Broadway hit of the same name, Hedwig and the Angry Inch is about Hedwig Robinson (John Cameron Mitchell), and his journey to find his "other half". While living in East Berlin, Hedwig (then Hansel) meets Sgt. Luther Robinson (Maurice Dean Wint), who over some gummi bears decides to marry him. The only problem is, he has to marry him in Berlin, which would require a physical examination. "To get away, you've gotta leave something behind," Luther tells Hansel. So it is agreed that Hansel must have a sex change operation. Unfortunately for Hansel (who changes his name to Hedwig), the doctor botched the operation, leaving him with nothing but an "angry inch". Luther and Hedwig run off to America, where Luther's wandering eye gets the best of him. Left alone, Hedwig just puts on some makeup, pulls the wig down from the shelf and goes back to her first love of music. That too has its problems: Hedwig gets involved in a relationship with Tommy Speck (Michael Pitt), who steals her music and becomes pop icon Tommy Gnosis. When we meet Hedwig at the beginning of the film, her and her band The Angry Inch are following Gnosis world tour in hopes of landing a successful lawsuit.

"Hedwig" rocks like no other movie I have seen in a long time. The soundtrack is (in my humble opinion) full of classic songs, and the film is full of audacious numbers to match them. I could easily be convinced that this film was made for upwards of $25 million. But obviously, style isn't dictated by budget (the film was made for $6 million). Just look at "Wig in a Box," where a trailer wall is kicked down to become a stage. Or "Angry Inch", where Hedwig's bold retelling of his past lashes out and causes the whole place to erupt. The music could've easily been tacky, but no. The songs, written by Stephen Trask, are punk rock masterpieces (some highlights including "Origin of Love", "Midnight Radio" and "Wig in a Box") that had me singing for days after. I am now convinced that the music industry would be on its way to redemption if more people could write with the gusto and originality of Stephen Trask's work.

The film's characters all have stunning emotional depth. Every character is developed, the relationships seem real, and they are all acted to perfection. That there is already more than you can say about most rock musicals. "Hedwig" is the brainchild of John Cameron Mitchell. He knows "this punk rock star" up and down and thus turns in a near flawless performance. Hedwig is bitter, stubborn and sarcastic, but never unpleasant for the audience to be with. Michael Pitt is impressive as the rip-off artist Tommy Gnosis, and Miriam Shor gives a wonderfully layered performance as Yitzak, Hedwig's husband/wife obviously unsure of her place in the world (just like Hedwig herself).

"Hedwig and the Angry Inch" has done what no other rock musical has done before. It refuses to give up the music for the story, or vice versa. Instead, the songs complement Hedwig's journey in such a way that we understand her position even more after each one. Now only one question remains: is "Hedwig and the Angry Inch" the greatest rock musical ever made? Hell, yeah.