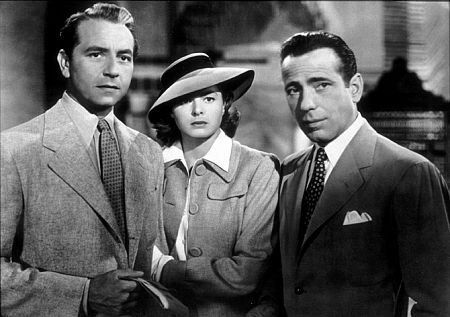 Revisiting "Casablanca" is like looking through an old family photo album. It's as if the viewer had been there themselves, coming back to these places as if returning from a long trip. There is something identifiable about each of the characters the audience can connect to. And just like looking through a photo album, one can see it again and again without getting tired of it.

The story is one of the most famous in Hollywood history. Set in (where else but) Casablanca in French Morroco, during World War II: "Easy to enter, much harder to leave." Richard Blaine (Humphrey Bogart) is the owner of Rick's Cafe American. It's the most popular attraction in town; and a haven for smugglers, patriots and others dying to get out of the desert hellhole they're stuck in. Rick doesn't interact with his customers; he minds his business and leaves everyone else alone. However, one customer arrives who demands attention: Rick's former lover, Ilsa (Ingrid Bergman). She shows up with a famous rebel leader named Victor Laszlo.

The love triangle presented in "Casablanca" is one of the most effectively handled I have ever seen. Rick obviously wants Ilsa, but is too busy battling his own demons to confront her. Victor wants to continue his quest, but won't continue without Ilsa. And Ilsa, stuck in the middle, can do nothing but try to straighten the situation out somehow. All the characters have goals, dreams and wishes; some will be fulfilled, some won't. Anything the characters want is being crushed by their connections to, or hate of, the World War and the Nazis. In a way, the very first shot of the film is representative of the film: the camera shows the whole world, and closes in to reveal the faces of the desperate souls trying to escape Casablanca.

This is one of those films that defies criticism. It has the magic of old Hollywood while still keeping an impeccable sense of realism. It is legendary amongst filmmakers, critics and moviegoers, with instantly quotable lines. How many times has someone said to you, "Here's looking at you, kid?" Go to a theater showing this classic and the aficionados will practically be able to recite the entire screenplay. Every shot in "Casablanca" is memorable in its own right... the images have become pop culture icons.

The cast of "Casablanca" is one of the most accomplished assortment of actors ever to grace the silver screen. The performances aren't just good; they're legendary. Let me put it this way: you know you have something special when you have a great actor like Peter Lorre in a bit part. Take Ingrid Bergman, for example. This is one of the films that turned her into a cinema goddess, along with "Notorious and "For Whom the Bell Tolls." Her performance is so well tuned that it's hard to describe it as anything else but perfect. She is one of the greatest actresses that ever lived. Humphrey Bogart gives his best performance as Rick. he's tenacious, won't stick his neck out for anybody, but still... I think it was summed up best by IGN DVDs Devin Faraci: "I know this isn't a phrase one expects to read in a review of a movie like "Casablanca", but Rick Blaine kicks ass. He's tough, he's cynical, and he has a ton of great lines. His Cafe American is THE place to be, whether you're a refugee or a Nazi. And he's THE guy to know." Claude Rains mixes the right amount of humor and desperation as the crooked official Louis Renault, providing the film's balance. And "As Time Goes By" has never sounded better than when sung by Dooley Wilson.

The story of how the terrific ending came to be is a quite famous one. Even well into the shooting of the film, no one- not even the writers, knew how it was going to end. When Ingrid Bergman asked which character Ilsa was in love with, she was told to "play it in between." The ending didn't come to fruition until one day, quite spontaneously; Julius and Phillip Epstein turned to each other and said "round up the usual suspects!" From that one saying, the whole immortal ending was conceived.

Nobody on the set thought "Casablanca" was going to be a great movie, it was just another big-name release. Even so, "Casablanca" is a film that has entered our consciousness and (arguably) has earned the title of America's best loved movie. You don't have to be a critic or a film scholar to love it; it has an amazing score, a great screenplay and some of the best acting you'll ever see. Oh, and if you see it for the first time with someone else who has seen it, you'll have to remind them not to ruin all of the lines for you.