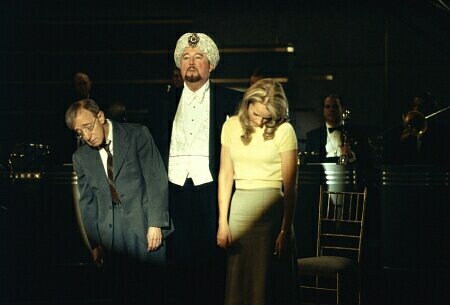 I picked up a promotional pamphlet for Woody Allen's "The Curse of the Jade Scorpion" the other day. It outlines the various steps one must take to hypnotize another, and at the bottom it says: "For entertainment only. Try at your own risk." Isn't it interesting how that statement nicely echoes the wonderful time Woody Allen gives in his new film. Don't go in expecting a masterpiece (this isnt an "Annie Hall" or "Everyone Says I Love You") but "Curse" is a gem compared to all of the schlock this summer has offered.

Woody Allen is CW Briggs, one of the best insurance investigators in the business. A new efficiency expert Betty Ann Fitzgerald (Helen Hunt) joins the company, and she drives CW up the wall. She is also having an affair with Chris Magruder (Dan Aykroyd), head of the insurance company. One night, in a club celebrating a company birthday, a master hypnotist (David Ogden Stiers) puts them both into a spell that leaves them to do everything he wishes. Lunacy begins as he commands them to rob estate after estate, putting them both on the line.

"The Curse of the Jade Scorpion" is Allen's tip of the hat to such enduring 1940s classics such as "Double Indemnity" and "The Maltese Falcon". The dialogue in "Scorpion" doesnt come close to the zesty sharpness of films like "Indemnity", but the banter between Allen and Hunt is a pleasure to watch. The only critique I have of these hilarious arguments is that in their closing, Helen Hunt always seems to be clinging to that last punchline, as if she's asking Allen "did you get that?"

One thing Woody Allen has always good taste in was music for his movies. Every time hypnotist Volar rings in to say the magic words (Constantinople for Allen, Madagascar for Hunt) the music kicks into full swing (pun intended). The music matches the mood and feel of the film so perfectly that its a wonder no soundtrack has been released.

The performances arent outstanding, but they fit snugly into their roles. Allen, who is perfect for the role because he writes for himself, leads the pack. He is very good, and signs of him slowing down or dulling are nowhere to be seen. Hunt also does a good job, even though she seems half-asleep during some scenes. Dan Akroyd also provides abundant support as Betty Ann's lover. But it is Charlize Theron, impeccable as Laura Kensington, who brings back memories of the 40s more than anyone else in the cast.

"The Curse of the Jade Scorpion" is not a new Woody Allen classic, but it is without a doubt one of the best (Hollywood) comedies Ive seen all summer. Allen sticks to familiar territory, but it's still so much funnier than most everything else out right now. I recommend this delightful movie without reservation.