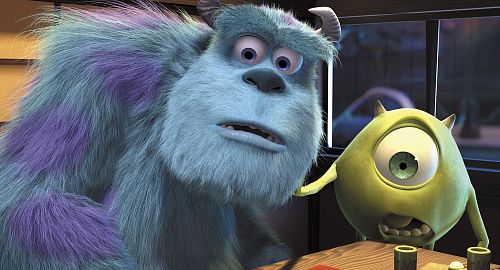 Leave it to animation studio Pixar to tackle a project like "Monsters, Inc." Pixar has always taken us to places we've never been but have always suspected existed. In "Toy Story" and "Toy Story 2", they showed us the secret world of toys that kids have always believed in. In "A Bug's Life", they showed us... the life of a bug. And now, with "Monsters, Inc.", they show us the world of the monsters we always thought were hiding in our closets to scare us.

John Goodman is James P. Sullivan ("Sully", as his friends call him), the top scarer at Monsters, Inc. His best friend is Mike Wazowski, voiced by Billy Crystal. Their job at Monsters, Inc. is to scare the living daylights out of children. Oh, you didn't know? Scream energy is what powers Monstropolis, the city they live in. At the time the film takes place, Monstropolis is having a power shortage. "Rolling Blackouts" are to be expected. So of course, the faithful monsters at Monsters, Inc. must scare as much children as possible. But wait... in this film, the monsters are scared of us, too. Whoda thunkit? So if a child just happened to get through the closet doors that separate the monster and human worlds, just how do you think those poor little monsters would be able to handle that?

There's more to the plot, but I won't take up any more of your time with silly plot details. I had a blast at "Monsters, Inc." for a good deal of time, and even though it has it's lulls, it certainly is a solid piece of work. This is going to draw a lot of comparison to DreamWork's previous "Shrek", so let's get that out of the way here. First off, the animation. While they're both computer animated, the animation in "Monsters" differs from that in "Shrek" in a few ways. The animation from Pixar is well-rounded, and uses a lot of cooler colors and more colorful tones. Even though "Shrek" was DreamWork's first completely computerized animated feature, it's been apparent in all of their animated flicks that they've gone for the more hardened, realistic look with a more yellowish palette (take a look at "The Prince of Egypt"). Me, I like the Pixar way myself. Take your pick.

But in other ways, "Monsters" fails to live up to "Shrek" or its Disney predecessors. Mainly because unlike "Shrek" or the "Toy Story" movies, this won't appeal to all ages. This is one of the few animated movies I can point to that would play better to the adults in the audience than the children. If the kid who was crying in my row is any indication, there's a lot of stuff in "Monsters" that could really scare the little ones, especially when things start happening to Boo (the little girl who found her way into the monster world).

But let's not talk about the bad stuff. "Monsters, Inc.", with all of its flaws, is a fantastic film. It starts off in an incredibly fresh way (the opening credits reminded me of an old Disney short, "Toot, Whistle, Plunk and Boom".) The whole beginning segment pulsates with energy and originality. With Pixar films it always seems the filmmakers had a great time making them, and it shows here. Yes, it does slow down in the middle as the focus becomes more story related, but there were a few jokes that I think went over most people's heads (including one sly pun involving lemon flavor snow cones-- if I were with Mike and Sully, I'd give them a helpful piece of advice- don't eat yellow snow!)

However slow the middle may be (and trust me, it's not that slow), the movie picks up with an exhilarating climax involving millions of closet doors. Without a doubt this sequence was put together with the thought of a Disney World ride in mind. This scene is a testament to the abilities of computer animation. It's quite a sight to behold, and it never becomes stale or uninteresting.

"Monsters, Inc." is a tremendous accomplishment from Pixar. It's got plenty for most of the family (although the really young ones might want to skip it). Newcomer writer/director Peter Docter can't quite top "Shrek" as computer animated flick of the year (and "Shrek" can't beat "Waking Life" as best overall animated film of 2001). Hopefully though, if we're lucky, he's just getting warmed up.