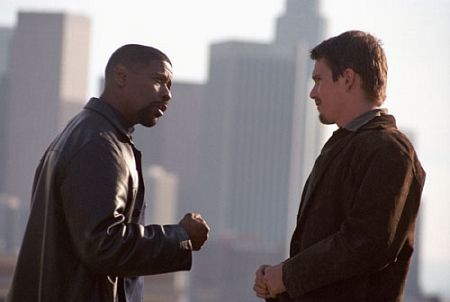 "Training Day" is proof of the saying " It takes one to catch one." Narcotics cop Alonzo Harris (Denzel Washington) even says so himself: you can't catch the wolves with blue suits; you've got to be a wolf. Indeed, Denzel Washington is a wolf in "Training Day", a riveting accomplishment from director Antoine Fuqua. And he's got a little sheep to protect, too; rookie cop Jake Hoyt (Ethan Hawke).

The entire span of "Training Day" revolves around just what the title suggests, one day in which a new cop learns the ropes. But the kind of training Jake Hoyt gets from Alonzo Harris isn't what he was taught at the academy. No, he's being taught real life skills; Alonzo is opening his eyes up to the real world. At first, Hoyt isn't exactly appreciative. After all, if someone puts a gun to your head to get you to smoke pot for the first time (laced with PCP, for that matter), what are you supposed to say? I tend to like movies that have this kind of structure ("Do the Right Thing" is a good example), since they have an entire film to describe one day. The characters are usually more fleshed out since events don't have to be hurried.

For a while the film is incredible, the best cop movie to come around in a while. Fuqua leads us into Alonzo's world through Hoyt's eyes. We learn the rules as we do. Every new revelation about Alonzo is just as shocking to us as it is to Hoyt. It holds up very well like this for a good amount of time. There's a whole world Hoyt doesnt know about, as Alonzo points out. For those not suspecting these kinds of things do happen, "Training Day" will either be seen as a shocking wake-up call or a senseless, loud action movie.

The film ceases to be so gripping in its final half hour. It fizzles out to become a normal, unremarkable quest to rid the world of evil. The thought in many films is that all problems must be resolved before the film is finished; good must prevail. I would have liked it much more if the ending had a little more ambiguity, and things didn't just come together like they did. After all, the real world doesn't always provide easy answers for us, why should this film?

Much has been said about Denzel Washington's performance. Walking into "Training Day", I was honestly not expecting anything radically different from him. But Washington really does outdo himself, pulling out all the stops to make Alonzo as real and confident as possible. Denzel Washington gives one of the best performances of his career, shaking off the sentiments that he'll be the next Sidney Portier. Without his performance, Alonzo would just be a shady cop. But Washington turns him into a somewhat welcoming, yet frightening criminal. Denzel Washington has had a very varied and fruitful career, and I look forward to more ambitious roles such as this from him in the future.

"Training Day" is an engrossing, gritty drama that isnt always entirely truthful. It held my attention long enough and seemed to be a fantastic film. But in the final moments, it breaks down to become a simplistic mainstream cop drama. See it for Washington's amazing performance, but don't expect too much from the ending.